Space History for December 1, 2023
---
This page is updated each day at 1300 GMT (8AM EST) when the newsletter is mailed to subscribers.
---
If you are not already a subscriber, you are welcome to enter your email address here to sign up to receive the Space History newsletter on a daily basis. Under no circumstances will we release your legitimate email address entered here to outside persons or organizations, and it will only be used for mailing the specific information you have requested.
| | |
| --- | --- |
| Enter your email address here: | |
Unsubscribe instructions are included in every newsletter issue in case you decide you no longer wish to receive it.
Note: We record the IP address from which subscriptions are entered to help prevent SPAM abuses.
---
Race To Space
Someone will win the prize...
... but at what cost?
Visit RaceToSpaceProject.com to find out more!
---
1729
Died, Giacomo F. Maraldi, French-Italian astronomer and mathematician (ice caps on Mars are not exactly on the rotational poles)
ref: en.wikipedia.org
1783 13:45:00 UTC
Professor Jacques Charles and Nicolas-Louis Robert ascended to about 1,800 feet (550 m) in the first flight of a manned hydrogen balloon, and performed the first barometer and thermometer measurements of air above the Earth's surface.
ref: en.wikipedia.org
1875
A. Borrelly discovered asteroid #157 Dejanira.
1894
A. Charlois discovered asteroid #396 Aeolia.
1921
The first US helium-filled dirigible made its maiden flight in which Blimp C-7 was piloted by LCDR Ralph F. Wood from Norfolk, Virginia to Washington, DC.
ref: web.archive.org
1924
G. Van Biesbroeck discovered asteroid #1046 Edwin.
1929
J. Comas Sola discovered asteroid #1708 Polit; O. Oikawa and K. Kubokawa discovered asteroid #1139 Atami.
1930
Miss Ruth Nichols became the first woman pilot to cross the North American continent, having left Mineola, NY for California a week earlier in her Lockheed-Vega.
Ruth Rowland Nichols (23 February 1901 - 25 September 1960) was born in New York City. Her father, who claimed descent from Leif Ericson, had been one of Teddy Roosevelt's Rough Riders, and her mother was a strict Quaker - a combination which led to a confusing and complicated childhood.

For her high school graduation, her father presented her with an opportunity to ride in a airplane with Eddie Stinson, ace pilot of World War I. She began secretly studying to fly even as she studied at Wellesley College, planning for a career as a physician. Shortly after her graduation from Wellesley, Ruth Nichols became the first woman in the world to earn an international hydroplane license. In 1927, she was one of the first two women to receive a Department of Commerce transport license. She went on from there to fly every type of aircraft developed: She was rated in the dirigible, glider, autogyro, landplane, seaplane, amphibian, monoplanes, biplanes, tri-planes, twin and four engine transports and supersonic jets. Nichols was the first of three women to earn an Air Transport Pilot rating in 1929 and the only woman to hold three different world records simultaneously: women's altitude (28,748 feet), speed (210.5 mph), and non-stop, Oakland to Louisville (19 hrs. 16 min.) between 1931 and 1932.
ref: en.wikipedia.org
1935
Died, Bernhard Schmidt, German optician, invented the Schmidt telescope which corrects optical errors of spherical aberration, coma, and astigmatism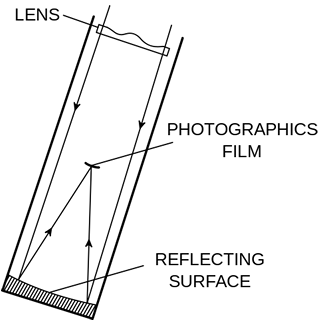 Optical ray paths inside a Schmidt telescope
Source: Wikipedia
ref: en.wikipedia.org
1936
E. W. Brundin and F. F. Lyon obtained a patent on soilless culture of plants. This and similar technologies are likely to be important for raising crops in space colonies.
ref: patents.google.com
1951
Born, Aleksandr P. "Sasha" Alexandrov (at Omurtag, Bulgaria), General Bulgarian AFR, Soviet cosmonaut (Soyuz TM-5/Mir; over 9d 20h in spaceflight)
ref: www.spacefacts.de
1960 07:26:00 UTC
USSR launched Sputnik 6 (also called Korabl Sputnik 3) with two dogs aboard, the capsule later reentered the atmosphere at the wrong angle and burned up.
Launched 1 December 1960, Sputnik 6 was a vehicle with 2 dogs aboard (Pchelka (meaning "Little Bee" and Mushka meaning "Little Fly"), as well as a television system and other scientific instruments. The cabin burned up when it reentered the Earth's atmosphere at the wrong angle a day later, precluding successful recovery and destroying the two animals.
ref: nssdc.gsfc.nasa.gov
1966
WWV began broadcasting time signals from Fort Collins, Colorado.
ref: www.nist.gov
1975
C. Torres discovered asteroid #2741 Valdivia; H. Wroblewski discovered asteroid #2858 Carlosporter; and T. Smirnova discovered asteroid #3322.
1978
Harvard College discovered asteroids #2153 Akiyama and #2493 Elmer.
1980
A. Mrkos discovered asteroid #3168.
1984
Died, Alfred Johannes Finzel, rocket engineer, German expert in guided missiles during World War II, member of the German Rocket Team in the United States after the war
ref: huntsvillehistorycollection.org
1987
Digging began at Shakespeare Cliff to link England and France via a tunnel (the "Chunnel") under the English Channel.
ref: www.baltimoresun.com
1987
NASA announced the names of four companies awarded contracts to help build the International Space Station: Boeing Aerospace, General Electric's Astro-Space Division, McDonnell Douglas, and the Rocketdyne Division of Rockwell.
ref: www.upi.com
1990
Channel Tunnel ("Chunnel") workers from the United Kingdom and France met 40 meters beneath the English Channel seabed, establishing the first ground connection between the island of Great Britain and the mainland of Europe since the last ice age.
ref: www.nytimes.com
1991 14:34:44 PST (UTC -8:00:00)
NASA STS 44 (Atlantis 10, 44th shuttle mission) landed at Edwards Air Force Base, concluding a dedicated Department of Defense mission.
STS 44 was launched 24 November 1991. The launch, originally set for 19 November, was delayed due to a malfunctioning redundant inertial measurement unit on the Inertial Upper Stage booster attached to a Defense Support Program satellite. The unit was replaced and tested. The launch, reset to 24 November, was delayed 13 minutes to allow an orbiting spacecraft to pass and to allow external tank liquid oxygen replenishment after minor repairs to a valve in the liquid oxygen replenishment system in the mobile launcher platform.

This was a dedicated Department of Defense mission. The unclassified payload included a Defense Support Program (DSP) satellite and attached Inertial Upper Stage (IUS), deployed on flight day one. Cargo bay and middeck payloads were: Interim Operational Contamination Monitor (IOCM); Terra Scout; Military Man in Space (M88-1); Air Force Maui Optical Site (AMOS); Cosmic Radiation Effects and Activation Monitor (CREAM); Shuttle Activation Monitor (SAM); Radiation Monitoring Equipment III (RME III); Visual Function Tester-1 (VFT-1); Ultraviolet Plume Instrument (UVPI); Bioreactor Flow and Particle Trajectory experiment; and the Extended Duration Orbiter Medical Project, a series of investigations in support of Extended Duration Orbiter flights.

The mission ended with Atlantis landing on Runway 5 at Edwards Air Force Base, California on revolution 110 on 1 December 1991. Rollout distance: 11,191 feet. Rollout time: 107 seconds. Launch pad: 39A. Launch weight: 259,629 pounds. Landing weight: 193,825 pounds. Orbit altitude: 197 nautical miles. Orbit inclination: 28.5 degrees. Mission duration: six days, 22 hours, 50 minutes, 44 seconds. Miles traveled: 2.9 million. The landing was originally scheduled for KSC on 4 December, but the ten-day mission was shortened and landing rescheduled following the 30 November on-orbit failure of one of three orbiter inertial measurement units. The lengthy rollout was due to minimal braking for a test. The orbiter returned to KSC on 8 December 1991.

The STS 44 flight crew was: Frederick D. Gregory, Commander; Terence T. Henricks, Pilot; Mario Runco, Jr., Mission Specialist; James S. Voss, Mission Specialist; F. Story Musgrave, Mission Specialist; Thomas J. Hennen, Mission Specialist.
ref: www.nasa.gov
---
We are going to run out of oil!
Visit SpacePowerNow.org to help fix the problem.
SpacePowerNow.org - For Human Survival
---
---

This newsletter and its contents are
Copyright © 2004-2023 by The L5 Development Group.  All rights reserved.
 - Publication, in part or in whole, requires previous written permission.
 - Academic or personal-use citations must refer to http://L5DGbeta.com as their source.
Thank you for your cooperation.

---